Corporate Social Responsibility
El Gobierno otorga la Placa President Macià a

manxa

en la categoría de responsabilidad social corporativa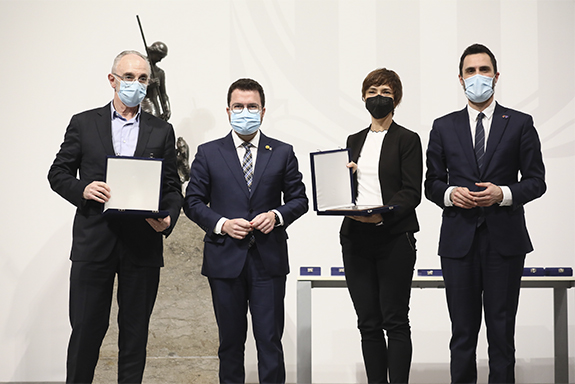 La distinción de la Placa President Macià la otorga el Gobierno de la Generalitat de Cataluña a las empresas u organizaciones que hayan destacado por los servicios prestados en beneficio de los intereses generales (dentro del mundo del trabajo).
Desde su fundación, el 1876 en Olot, hasta hoy, con 7 centros operativos, en manxa procuramos ser sensibles a la gestión de los impactos que nuestra actividad genera en nuestro equipo, clientes, comunidad local y, también, en la sociedad en general. Intentamos, desde el respecto, que haya una repercusión positiva en todos ellos.
A lo largo de los años las personas dentro de la empresa han permitido crear una cultura de valor gracias a impulsarla y practicarla entre todos.
Colaboramos con varias entidades sociales que nos ayudan a conseguir esta integración social y compromiso con el territorio. Algunas de ellas son Integra, Càritas, Fundació Albert Bosch, Fundació Girona Est, Fundació UE Olot y Xavi Porras.
Integració real
manxa is a company formed by people; we are a 100% representation of society so, we are a group of workers with different capacities. We like to talk about real integration. Incorporating people with disabilities in our team makes us better: it increases the team spirit, solidarity between us and changes our DNA to a better version.
Community and Social Action
We are committed to our territory. That is why we support entities and people that help to improve society and its members. At manxa we support the football club: Unió Esportiva Olot and its scholarship program for children with financial difficulties.
In addition, manxa collaborates directly with the foundation Joan Agustí Reixach who works to help the base football in our city and to improve the learning and practice of football.
The foundation has 3 areas of action: learning through football, integration of people and social promotion. The JAR Foundation helped to fund the reconversion and improvement of the municipal facilities to practice football in Olot. Furthermore, it gives economic support to two teams of children with risk of social exclusion.
To manxa is very important that everyone has the opportunities to develop, whatever are their abilities. That is why we sponsor the Paralympic athlete Xavi Porras, for more than 10 years now. For being an example of hard work and persistence.

-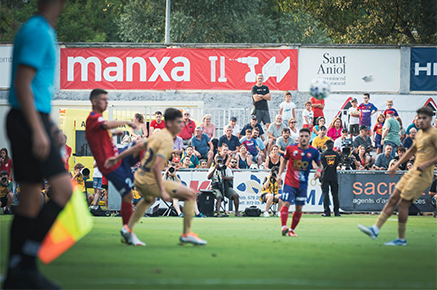 Cooperation with the Albert Bosch Foundation to collaborate on research projects and the development of solutions against childhood cancer
manxa signs a social agreement with the Fundació Albert Bosch to give it more notoriety and resources. The Foundation was born in 2004 with the aim of promoting the investigation and research into medical, biomedical and surgical solutions for childhood diseases and, more generally, to contribute to the people's wellbeing throughout their lives.
An action plan of three years has been drawn up and consists of:
- Installation of corners in the stores of Olot and Banyoles with information from the Foundation, as well as a piggy bank so that customers can make small contributions. This action will help to raise awareness of the Foundation among all the customers of manxa, as well as the economic rewards that can be achieved
- Study among all of our providers so that they can put in contact the managers of these corporations with those responsible for the Foundation and that in this way they can create new collaboration agreements and collect more resources for the investigation against the childhood cancer.
- Annual economic contribution by manxa
INTEGRA
INTEGRA is a non-profit organization that carries out its activity in the Garrotxa region. It was born with the purpose of creating and managing centers and services aimed at people with itellectual disabilities and children with developmental disorders or at risk of suffering them.
At manxa we have made various collaborations with them. The last one was a donation of computers that Integra distributed among its centers and allowed them to renew obsolete material, equip some centers and take advantage of old computers to give them to some of their students.
FUNDACIÓ GIRONA EST
For manxa it is important that everyone has the same opportunities, that is why we collaborate and donate material to the Fundació Girona Est.
Girona Est is a group of neighbourhoods in Girona that are characterized by high rates of unemployed people, low incomes and a high rate of school dropouts. The Fundació Girona Est supports these neighbourhoods, with special attention to their younger group

IES GARROTXA

We also collaborate with the Institut La Garrotxa, a public center that was created in 1974 and since 2002-03 is part of the Xarxa de Qualitat i Millora Continua project of the Department of Education. His teachings include ESO, Baccalaureate, Middle Grade Training Cycles and Higher Grade Training Cycles.
From manxa we collaborate with the equipment of the students' wardrobe of the mechanics and maintenance cycles.
Quality in the workplace
In manxa we understand quality as a set of procedural actions that should lead us to offer our customers products that offer total safety and quality, that respect the current legislation and above all satisfy their demands. We firmly believe that quality must be taken care of throughout the process and this also means giving our workers a work environment that is right for their needs.
Environment
Our commitment to the environment involves operating efficiently and responsibly in all processes, with the objective of providing more competitive and profitable products, with the best impact and respectful of the environment.
Iron is the most recyclable material that exists it responds to the principles of sustainability and social responsibility. It is a material that must be vital in the coming decades for the sustainability of the planet. Iron does not lose qualitative faculties when recycled; its life cycle is unlimited. In the iron door, the remaining product is collected by recycling companies so that they can be brought to iron manufacturers that will fuse it and make new products with new applications.
Improve the performance of our customers
We provide innovative and sustainable solutions, based on an increasingly collaborative and digital environment.